American Flatbread Stowe opened it's doors in September 2022 in the legendary music venue, formerly known as The Rusty Nail. Today, American Flatbread, located at 1190 Mountain Road, is Stowe's community gathering place serving wood-fired pizza, craft cocktails, and local brews. Join us by the hearth or take the experience home with you.
Hours
Monday

CLOSED

Tuesday

11:30 am - 9:00 pm

Wednesday

11:30 am - 9:00 pm

Thursday

11:30 am - 9:00 pm

Friday

11:30 am - 9:00 pm

Saturday

11:30 am - 9:00 pm

Sunday

CLOSED
Contact American Flatbread Stowe
Reservations are available online through RESY or by calling the restaurant. To inquire about making a reservation for a party of 7 or more please call 802-253-3092. If reservations are not available, we recommend exploring the area on the bike path while waiting and we will text you as soon as your table is ready.
Soup & Salad
Flatbread
Cocktails
Beer & Cider
Wine
Non-Alcoholic Beverages
Evolution Salad
9
Organic greens with carrots, celery, pickled red cabbage, toasted sesame seeds and our Ginger-Tamari vinaigrette
Add-Ons
Roasted Red Peppers, Kalamata Olives, Sundried Tomatoes, Green Peppers, Mushrooms, Red Onions,
1.25 each OR 2.25 for two or more
Jasper Hill Blue Cheese, Vermont Creamery Chevre
3
Grana Padano, Mozzarella
1.50
Chicken
3
Family Salad
40
Our Evolution Salad – enough for the whole family! Serves 6-8
Add-Ons
Jasper Hill Blue Cheese or Vermont Creamery Chevre
6
Soup
7
Grafton Smoked Cheddar and Ale
Local Beet Salad
17
Wood-fired Knee Deep Farm beets, arugula, Whipped Vermont Creamery Chevre, orange, toasted pepitas, beet reduction
Can't choose?  Half and half breads are available so you don't have to. (Small +$1.00, Large +$2.00)
Gluten Free Crust from Hillside Farm (Small $5.50)
Meat Special
Small
18
Large
27
North Country Smoked Bacon, Lewis Creek Farm Creamed Swiss Chard, Grafton Smoked Cheddar, Aither's Ridgetop Farms Maple Syrup, Caramelized Onions, Grana Padano, Mozzarella
(CANNOT BE MADE GF OR DF)
Veggie Special
Small
17
Large
24
House Pickled Knee Deep Farms Beets, Oven Roasted Fennel, VT Creamery Chevre, Arugula, Mozzarella, Grana Padano
Dancing Heart
Small
12
Large
16
garlic oil, Grana Padano, toasted sesame seeds, salt, black pepper
Cheese & Herb
Small
13
Large
17
mozzerella, Grana Padano, garlic oil and fresh herbs
Medicine Wheel
Small
14
Large
18
organic tomato sauce, mozzarella, Grana Padano, fresh herbs
Revolution
Small
16
Large
22
organic tomato sauce, caramelized onions, mushrooms, Grana Padano, mozzarella, fresh herbs
Margherita
Small
16
Large
23
garlic oil, tomatoes, basil, fresh mozzarella, Grana Padano, black pepper
Punctuated Equilibrium
Small
16
Large
23
kalamata olives, roasted red peppers, fresh rosemary, red onions, Vermont Creamery chevre, Grana Padano, mozzarella, fresh herbs
Power to the People
Small
17
Large
24
chicken, buffalo sauce, red onions, carrots, blue cheese dressing, mozzarella, Grana Padano, fresh herbs
Pepperoni & Peppers
Small
17
Large
24
nitrate-free pepperoni, green peppers, red onions, organic tomato sauce, mozzarella, Grana Padano, fresh herbs
New Vermont Sausage
Small
18
Large
25
house maple-fennel pork sausage, sundried tomatoes, caramelized onions, mushrooms, mozzarella, Grana Padano, fresh herbs
Free Form Flatbread
17+
Any combination of anything!  Start with our Cheese & Herb or Medicine Wheel Flatbread & add your favorite toppings from the following list: Caramelized Onions, Carrots, Garlic, Green Peppers, Jalapenos, Kalamata Olives, Tomatoes, Mushrooms, Red Onions, Roasted Red Peppers, Rosemary,  Sundried Tomatoes, Fresh Basil
Add-Ons
Vermont Goat Cheese, Jasper Hill Blue Cheese
sm 2 / lg 3
Nitrate-Free Pepperoni, Chicken, Buffalo Chicken, Maple-Fennel Sausage
sm 2 / lg 4
Vegan Cheese - Follow Your Heart* non-dairy mozzarella
sm 2 / lg 4
Gluten Free Crust - Small only (Hillside Farm) We are cautious when preparing our gluten-free items and do our best to ensure a gluten-free product. American Flatbread is not a gluten-free environment. In consuming our gluten-free items, be aware that there may be a chance of cross contamination.
sm 5.50
Organic Tomato Sauce (8oz)
3
Garlic Oil
2
Grana Padano
2
Housemade Hot Sauce
2
Housemade Ranch
2
Housemade Blue Cheese Dressing
2
*Summer menu, subject to change
Sunset Spritz
13
Prosecco, Aperol, fresh blood orange, rosemary
Berry Patch Lemonade
11
Vodka, raspberry simple, lemon
Clouds of Smoke
17
Mezcal, Amaro Montenegro, lime, agave, Angostura, aquafaba, house made tajin
Summer Breeze
16
Barr Hill Gin, lemon, basil simple, soda
Sweet As Sin
15
Rectified Bourbon, VT Maple, grapefruit, lemon, Angostura
Sangria
10
Red Wine, Gran Gala, Mixed Fruit
Caribbean Cooler
14
Angostura 5yr Rum, Falernum, Gran Gala, lime, pineapple
Mansfield Manhattan (Barrel Aged)
18
Mad River Rye, House Vermouth blend, orange bitters
Double Barrel Negroni (Barrel Aged)
18
Barr Hill Tom Cat Gin, Campari, Punt e Mes
Sample menu – may be slightly different than what we're currently pouring
Zero Gravity, Green State Lager
8
Hill Farmstead, Edward, APA
8
River Roost, Mas Verde, IPA
8
6.7%, White River Junction, VT
Lawson's Elderberry Gose, Sour
8
Simple Roots, Fireside Red
8
Schilling, Alexandr, Czech Pilsner
8
14th Star, Maple Breakfast Stout
8
Stowe Cider, Tips Up, Semi Dry Cider
8
Alchemist, Focal Banger, IPA
8
Alchemist, Heady Topper, Double IPA
8
Lawson's, Sip Of Sunshine, Double IPA
8
Stowe Cider, Rose Cider, Rhubarb & Red Wine
9
Shacksbury Cider, Yuzu Ginger
8
Domestic Beer
5
Bud Light (4.2%), Pacifico (4.5%), PBR (4.8%)
Glass Pour menu – please come in to see our extensive wines offered by the bottle
Sauvignon Blanc
$10 | $38
La Petite Perriere – FRANCE '21
Chardonnay
$13 | $50
Pike Road – California '20
Prosecco
$9
Scarpetta, Frico Frizzante – ITALY '21
Pinot Noir
$15 | $58
BloodRoot Wines – CALIFORNIA '21
Chianti
$13 | $50
Giuliano Rosati – ITALY '21
Cabernet Sauvignon
$12 | $46
Substance Cs – WASHINGTON '19
Fresh Press Sparkling Cider
4
Juice
4
Cranberry, Apple, Pineapple, Grapefruit
Fresh Squeezed Maple Lemonade
4
Maine Root, Spicy Ginger Brew
5
Saratoga Sparkling Water (1 LIT)
5
Saratoga Spring Water (1 LIT)
5
Brio Nitro Flash Chilled Coffee
6
Pineapple Paradise (MOCKTAIL)
7
Pineapple, lime, basil, & soda
Berries Grow On Trees (MOCKTAIL)
8
Cranberry, cherry, and ginger syrup, with Fresh Press Sparkling Apple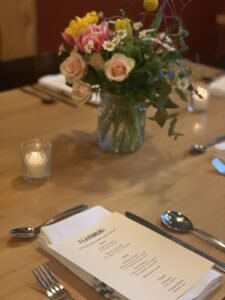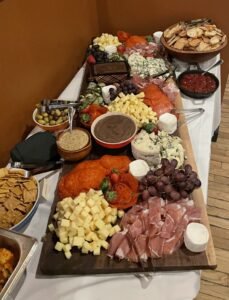 Host your event at our beautiful location in Stowe, Vermont! The post & beam structure gives our space the rustic, warm, mountain feel you're looking for when you visit Stowe. Whether you are looking to book a wedding reception, rehearsal dinner, welcome party, company outing, networking event, Bar or Bat Mitzvah, or holiday event we can create the perfect experience for your guests.
Please email events@flatbreadhearth.com to receive more information about hosting your event at American Flatbread in Stowe.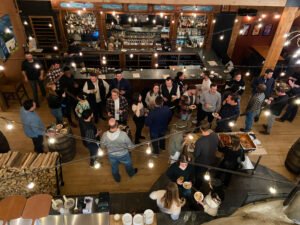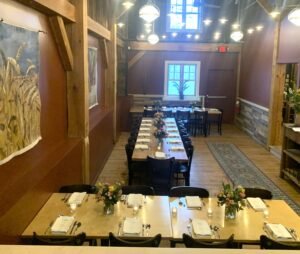 We're hiring! Join the Stowe American Flatbread team!
American Flatbread is always accepting employment inquiries from enthusiastic and passionate people to share in our philosophies of serving real food, supporting local farms, as well as giving back to the community. If you are ready to work in an environment that supports you and the work we'll be doing together, then apply today!