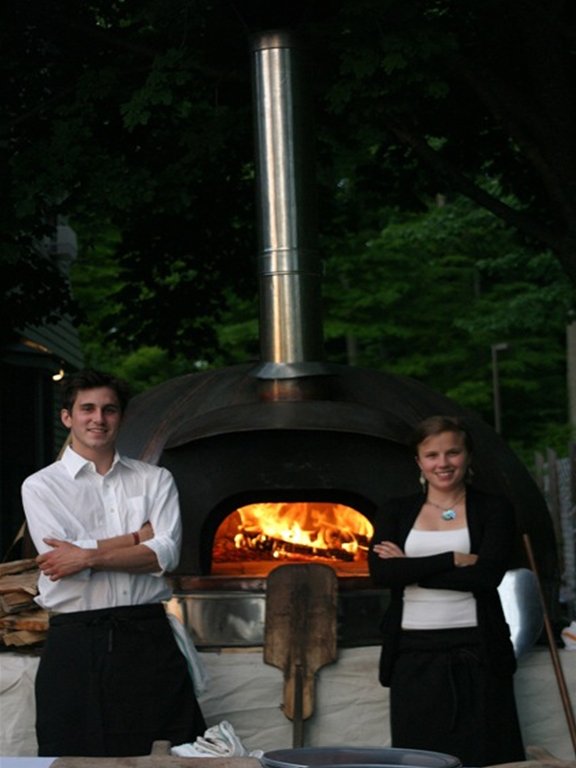 Special Events
Mobile Bakes
Host your event at our farm in Waitsfield or bring the American Flatbread experience to the site of your choosing with our mobile oven!
American Flatbread brings a unique experience to your special event. Our traveling hearth oven was handcrafted for us by artisans in Maine and features a special patina dome. Wow your guests with handcrafted flatbreads served from our roaring mobile wood fire.
We delight in serving parties that share our love of good food. Our mobile oven has baked at both large and small events, from huge public parties in Central Park NYC to intimate family gatherings.
We tailor menus to each event and look forward to working with you to make your event special, exciting and unique!
Wood-fired, clay ovens are an ancient tradition stemming from community bread ovens of the old world. It is widely believed that stone/earthen ovens produce the best bread because of the almost magical transformation that happens from a wood fire. The result of this transformation is bread with a superior crust and tender crumb that can only be found from these masonry style ovens.
Traditionally, such ovens were centrally placed in each community and families baked their breads, pies, roasts, beans, and other delectable ingredients side by side with one another.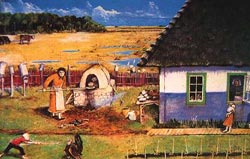 George Schenk had these principles of integrity and community in mind when he created his own clay oven, referencing communal ovens he found in the Haute Savoie region of France, the Quebec wood fired ovens that exist north of Vermont, and techniques gathererd from his grandmother and his experiences as a Boy Scout.
George built his first oven of field stone in his backyard.  Since it didn't have a dome, he knew it wouldn't be capable of baking a loaf of bread so he attempted to make a flatbread. The result was surprisingly tasty, and George was encouraged to continue exploring this method of cooking.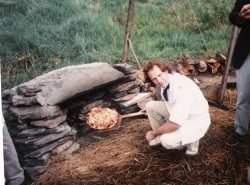 The next oven incarnation more closely resembled the design we use today, with a front-facing door and earthen dome.  The result was a oven that uses three important heat sources: conductive, convective, and luminary heat. Together, these three heat sources produce a profoundly unique flatbread with a balance of crispness and tender chewiness at the same time.
To this day today, we continue to bake in our original American Flatbread oven at Lareau Farm, built in 1991.
The hearth is made of Vermont fieldstone laid up dry wall. The rock is primarily metamorphic schist that was gathered from the woods in East Warren, near George's home. The core is filled with fine sand from a nearby glacial moraine. The baking surface is Vermont soapstone that was cut from a historic quarry in Perkinsville. The soapstone is particularly well suited to the high temperatures of the wood fire and has superb thermal retention characteristics.  The oven dome is made from thousands of pounds of blue-grey clay hand dug from the old river delta in our back woods.