South Windsor, Connecticut…. When Neil and Mike approached us about expanding their commitment to local communities in Connecticut from Canton to South Windsor we were excited about the possibilities.
A quaint New England town nestled alongside the Connecticut River with a history rooted in farming and agriculture – we figured it's a place we need to be! While South Windsor has diversified since its founding days, we have found a vibrant farming community. We are not only thrilled to be forging new relationships with these farmers but also sharing those local flavors with you each night by the fire of our wood burning earthen oven. Thank you South Windsor for welcoming us, we look forward to making new lifelong friends.
Keep Each Other Well!
Hours
Monday

11:30AM - 9:00PM

Tuesday

11:30AM - 9:00PM

Wednesday

11:30AM - 9:00PM

Thursday

11:30AM - 9:00PM

Friday

11:00AM - 9:30PM

Saturday

11:00AM - 9:30PM

Sunday

11:30AM - 9:00PM
Join us for take-out or dining!
Contact American Flatbread South Windsor
Part of our mission at American Flatbread is to support local organizations that have an impact on our community. The primary way that we accomplish this is through the benefit nights that are held on Tuesdays at each of our restaurants.
Click to learn more and download our benefit application.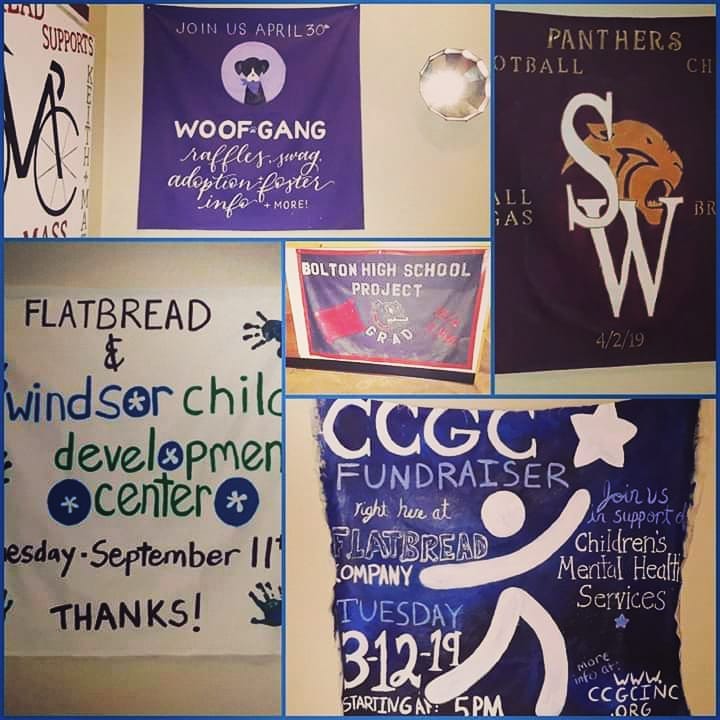 Join The South Windsor American Flatbread Team
American Flatbread is always accepting employment inquiries from enthusiastic and passionate people to share in our philosophies of serving real food, supporting local farms, as well as giving back to the community. If you are ready to renew your spirit while helping us to do a little something to save the planet at the same time, then apply today!